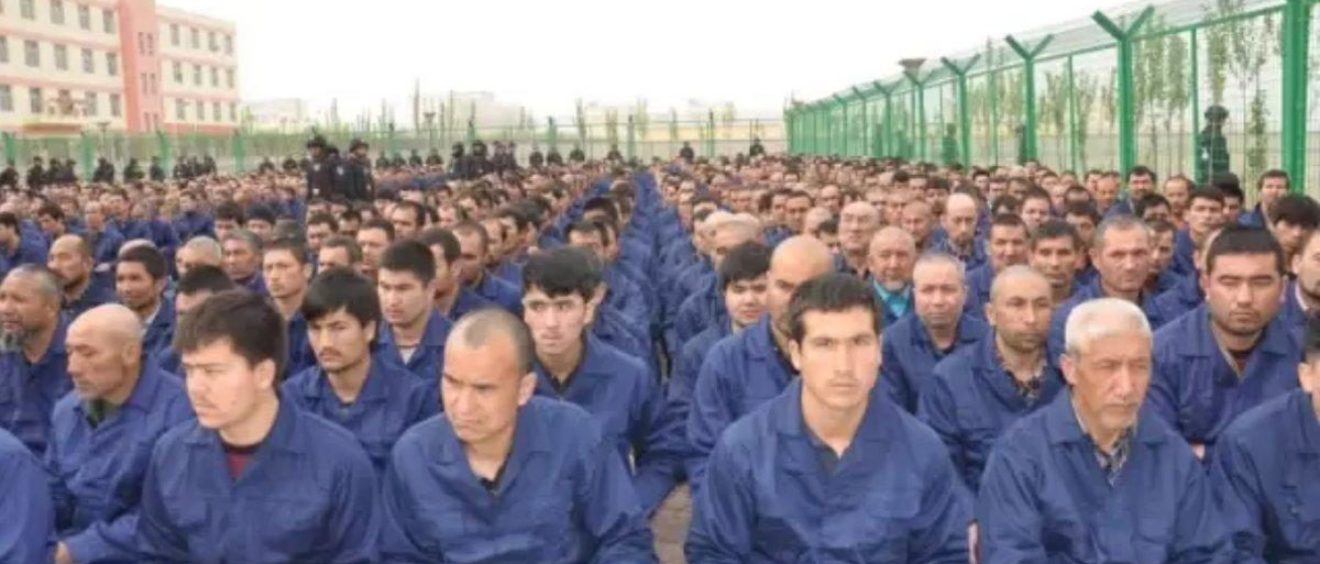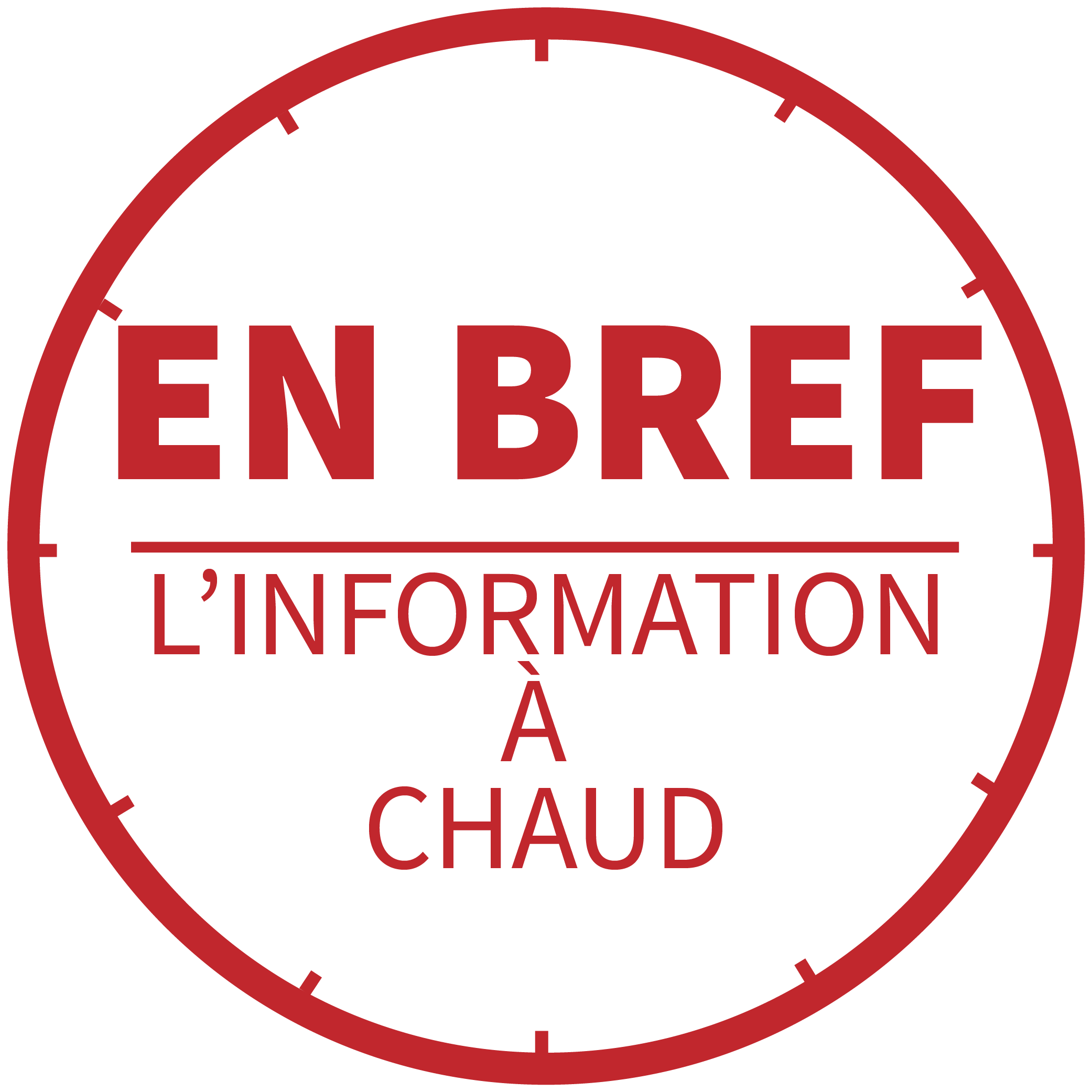 China's evolving publicity push to control narrative on Xinjiang crackdown
Background
:
"Viruses of the mind"
"The State Party has turned the Uyghur Autonomous Region into something resembling a massive internment camp, shrouded in secrecy, a sort of no-rights zone," said Gay McDougall, chair and rapporteur for China of the UN Committee on the Elimination of Racial Discrimination during a committee meeting in August 2018.
China has been cracking down in Xinjiang Uyghur Autonomous Region's (XUAR) Turkic peoples, who are native to the region and foreign to the Chinese Han majority. At least 1 million civilians are being detained extrajudicially in "re-education" facilities, cited McDougall.
Detainees are subject to harsh treatment and living conditions, often forced to undergo indoctrination to erase their ethnic and religious identities. In local authorities' words, they are infected by "viruses of the mind" and "poisonous weeds" that need to be eradicated.
Despite the ruthless tactics utilized against its own people, CCP has always managed to cover up, whitewash and normalize its policy measures, at least within China. Not only has relevant information been hidden, but the tragedy in Xinjiang has been painted as a necessary or even a positive policy that caters to the interest of the people through its publicity push.    
The intensifying security measures first appeared in 2009, after the July 5 Riots in Ürümqi and a series of terror attacks in the early 2010s. Another surge has taken place since the 2016 installment of Chen Quanguo as XUAR's Chinese Communist Party (CCP) chief. Chen was famous for employing similar measures against Tibetans when serving as the party chief for Tibet Autonomous Region previously.
Silence and Denial:
"There is no sign of life."
Chen's ramp-up has made XUAR's public spending skyrocketed. Not until fall 2017 when reports began to surface, the crackdown remained unknown to the outside world.
"Shrouded in secrecy", the repression against the minorities in Xinjiang remains much unheard-of to people in other parts of China till this day. Contact from the region with the outside world has been restricted and strictly surveilled.
Those who report on the matter risk facing certain retaliation in different forms – regardless of who and where that person is. Megha Rajagopalan, being one of the first journalists to reveal the tragedy, was denied visa renewal last summer – effective expulsion from China.
China is trying to control all narrative and discourse on the subject. Information independent from the Chinese government is now ever harder to obtain. China continues to threaten ex-detainees and their family into silence.
Domestic efforts to expose the crackdown is not absent but is met with swift retribution. Bitter Winter, an online magazine of religious freedom and human rights in China, reports many of its reporters are arrested or "disappeared" for covering the clampdown.
Most photos we now see are detainees in tidy classrooms or factories or on playgrounds. These are all coming directly from the Chinese government and its media.
Due to the blockade of information, countries have been hesitant in recognizing the gravity of the issue, not to mention speaking out or reacting to it. It was not until April 2018, seven months after the first series of reports, that the US government and congress, first among other countries, officially condemned such a practice.
Unaware of the consequences, Germany mistakenly deported a 22-year-old Uighur man to China in April. "There is no sign of life. We fear that he has been detained," said his lawyer.
Muslim countries and Turkic countries have remained largely silent, weary of the consequences of speaking out. Many are China's trade partners and participants of China's Belt and Road Initiative, where Chinese investment is vital to local economies.
Only until last month did Turkey voice their denouncement towards China's mass reeducation camps. Turkey officials said thousands of prisoners were subject to "torture" and "political brainwashing".
Kazakhstan, a Muslim Kazakh country bordering XUAR, only expressed concern during low-profile meetings with China.
McDougall's report marked the first time the crackdown in XUAR being brought to an international stage when international attention was little then. China categorically denied every accusation, until two months later.
Whitewash:
"After graduation, they can acquire one to two vocational skills."
As journalists and scholars continued to expose and call for attention on Xinjiang, China began a campaign of whitewash.
In October, Hu Xijin, editor-in-chief of a CCP mouthpiece Global Times, visited a re-education center. He posted photos and videos of detainees in uniforms dancing and playing table tennis on a fenced-off playground.
The camp had had more security facilities before Hu's visit, according to Shawn Zhang, student at University of British Columbia who has been tracking the camps through satellite images.
Since August, Hu's paper has championed "Xinjiang governance" as "righteous" and praised "strong measures" that "restore peace, stability". It has also denounced reports in "western countries" as "smearing" and "sabotage".
In October and December, China's state television China Central Television (CCTV) aired two 15-minute segments to endorse "transformation-through-education" centers. The segment interviewed workers, "attendees" and "graduates" and commended the centers for teaching Chinese, "knowledge about the law" and "vocational skills" and "rehabilitating" people "lured" by extremism.
On Nov. 6, during a UN Human Rights Council meeting, China admitted to setting up "transformation-through-education centers". It said all measures taken in the region are carried out "in accordance with the law", citing "counter-extremism" needs.
Present at the meeting was Urumqi mayor Yasim Sadiq, himself an Uighur. He said training was "free of charge" and "training centers have been welcomed by the attendees. After graduation, they can acquire one to two vocational skills."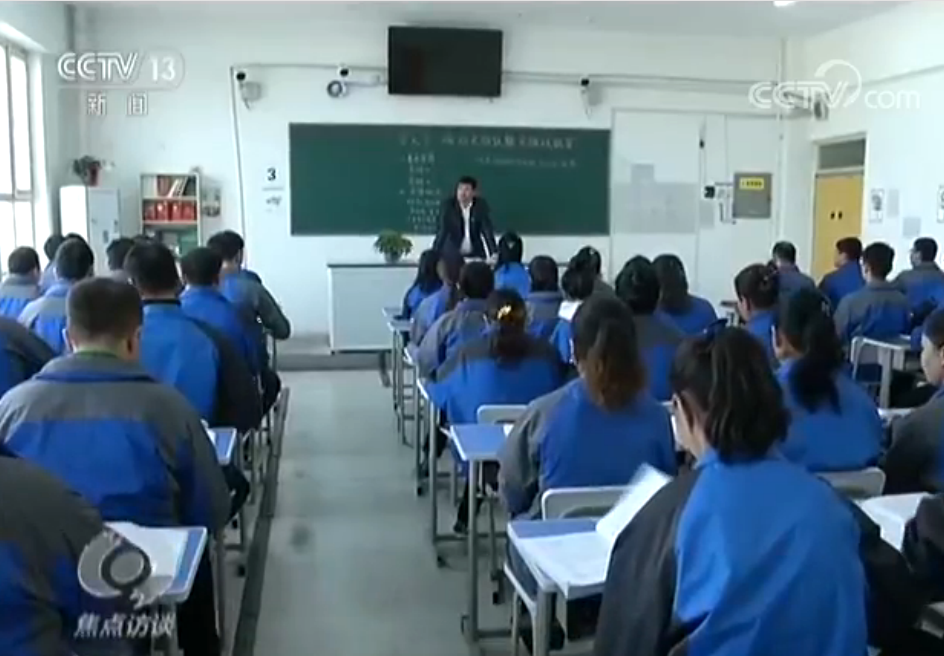 The segment aired after Xinwen Lianbo, the 7pm official news program on CCTV which every major channel is required to broadcast. Screenshot of web archive on tv.cntv.cn.
Accomplice
The exploding security budget of XUAR has created a multi-billion-dollar industry.
Hikvision and Dahua, two of world's largest surveillance equipment and technology firms, have been providing surveillance equipment and technologies for the XUAR government. Since 2016, Hikvision alone has been awarded contracts in Xinjiang totaling over $1.2 billion.
Hikvision and Hahua's investors and supporters include global finance giants Deutsche Bank and JPMorgan, and big techs Nvidia, Intel and Cisco.
A December report revealed that China has turned the camps into forced labor factories. Though most of their products are sold in China and Central Asia, some ended up in North America and Europe.
In January 2019, Frontiers Services Group, a security and logistics company based in Hong Kong, announced it closed a deal with China to build a training center in XUAR. The company was founded by Erik Prince, a former US military contractor. His spokesperson denied Prince had any knowledge or involvement in the deal.
A leak earlier this year revealed that SenseNets, a Shenzhen-based facial-recognition company, collected GPS data and facial image from 6.7 million people. Those are paired with subjects' name, address and employment. Over one-third of them is Uighur.
Belated attention, but little action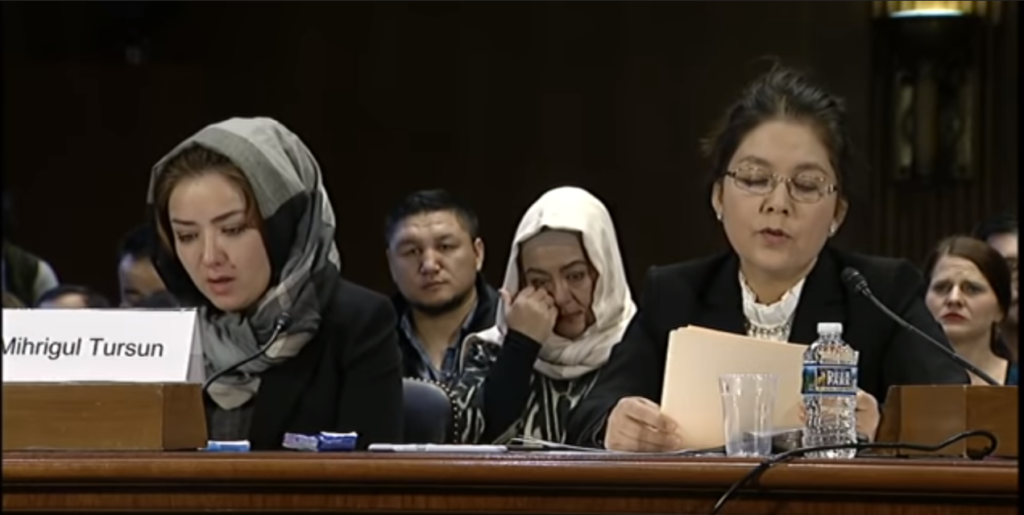 Mihrigul Tursun (left), an ex-detainee at a re-education camp in XUAR, appears before the Congressional-Executive Committee on China (CECC) in November 2018, with her translator (right) reading her prepared statement. Screenshot from CECC's livestream recording of the hearing on CECC youtube account.
Since August 2018, Members of the US Congress have urged the US Government to put sanctions on officials responsible for the crackdown, such as Chen Quanguo. They have also introduced a bill on Uighurs' human rights to the Senate floor. Hikvision and Dahua are now banned by law from government purchase and use.
After the erroneous deportation in April 2018, Germany finally halted deportations of Uighurs in August, almost a year after the first reports. In September, Sweden followed suit.
In November, ambassadors from 15 countries to China, in a rare concerted move led by Canada, requested in writing to meet Xinjiang party chief Chen Quanguo.
In response to the reported death of Abdurehim Heyit, a prominent Uighur musician, in China's custody, Turkey, a Muslim Turkic nation, broke its long silence.
On Feb. 9, 2019, for the first time since the 2017 reports, Turkish Foreign Ministry said China's "internment camps" are "a great shame for humanity" and called on China "to respect the fundamental human rights of Uighur Turks and to close the internment camps".
However, no country so far has taken any concrete measure against the Chinese government or the officials responsible over the human rights crisis in Xinjiang. Neither has the UN introduced any effort that is legally binding.
Some countries have been supportive of China. December 2018, Pakistan called accusations "sensationalized". Saudi Crown Prince Mohammed bin Salman said, "China has the right to take anti-terrorism and de-extremism measures to safeguard national security," in support of China's action in XUAR, during his visit to China this February.
The Crown Prince is believed to be responsible for the murder and dismemberment of Saudi journalist Jamal Khashoggi in Istanbul.
Row and promotion: "Totally fake", "worthy of praise"
On Jan. 18, 2019, CNN aired an interview with re-education camp survivor Mihrigul Tursun. China's Ministry of Foreign Affairs slammed the outlet, calling the news "a deliberate lie" and "totally fake". CNN stood by the reporting and updated the segment with China's response.
In response to Turkey's statement on Feb. 9, China's embassy to Ankara slammed Turkey's accusation as "seriously contrary to the facts" and "completely unacceptable".
"For over 25 months, there has been no violent terror incident in Xinjiang," said its spokesperson. Abdurehim Heyit "was arrested in accordance with the law for allegedly threatening national security and is healthy at the present."
China's mouthpiece radio China Radio International's (CRI) Turkish service released a footage dated Feb. 10 showing Abdurehim Heyit alive. "I am in the process of being investigated for allegedly violating national laws," said Heyit in the video.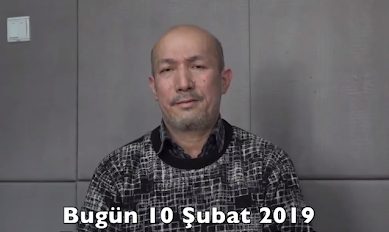 Abdurehim Heyit in the video released by CRI. Screenshot of video posted on Twitter @CRI_Turkish.
Calling out on western news outlets or government and accusing them of lying and smearing is not uncommon for the Chinese government. Its mouthpieces are more vocal in this. Since August 2018, Global Times has been slamming western media and governments for "sabotaging" the "progress in Xinjiang". These are a part of the long-time official narrative of western antagonism to dismiss criticism.
At the same time, China is inviting diplomats and journalists to Xinjiang, telling them its efforts "are worthy of praise".
In response to UN's calls for direct access to XUAR, China said it welcomes UN officials to the region but only through "proper procedures"
Since late December 2018, China has invited diplomats from 12 non-Western countries to visit the XUAR and groups of foreign journalists to re-education facilities. A Pakistani diplomat told Global Times he saw no sign of human rights violation.
An EU work team was also allowed to visit the region and had "extensive supervised access" to facilities and mosques. An EU official said, "the sites that were visited were carefully selected by the authorities to support China's official narrative".
Imminent nightmare to other places: Exporting Xinjiang model?
The measures in XUAR is spreading elsewhere. According to Global Times, Ningxia, an autonomous region of Hui, Muslim Chinese, is learning from Xinjiang's "experiences in promoting social stability" and "the fight against terrorism".
In early January 2019, Hong Kong sent its anti-terrorist task force to XUAR to learn from local methods. Hong Kong newspaper Ming Pao cited sources in Beijing on Feb. 27, 2019 that the CCP is "satisfied with the 'Xinjiang Model'" and planning on "exporting" the Xinjiang method "as mature experience to other regions of China and even neighboring countries".
Feature image: Detainees sat in columns in a fenced courtyard for official assembly inside a re-education camp in Xinjiang. Photo credits to official Wechat account of Xinjiang Uyghur Autonomous Region (XUAR) judiciary administration.