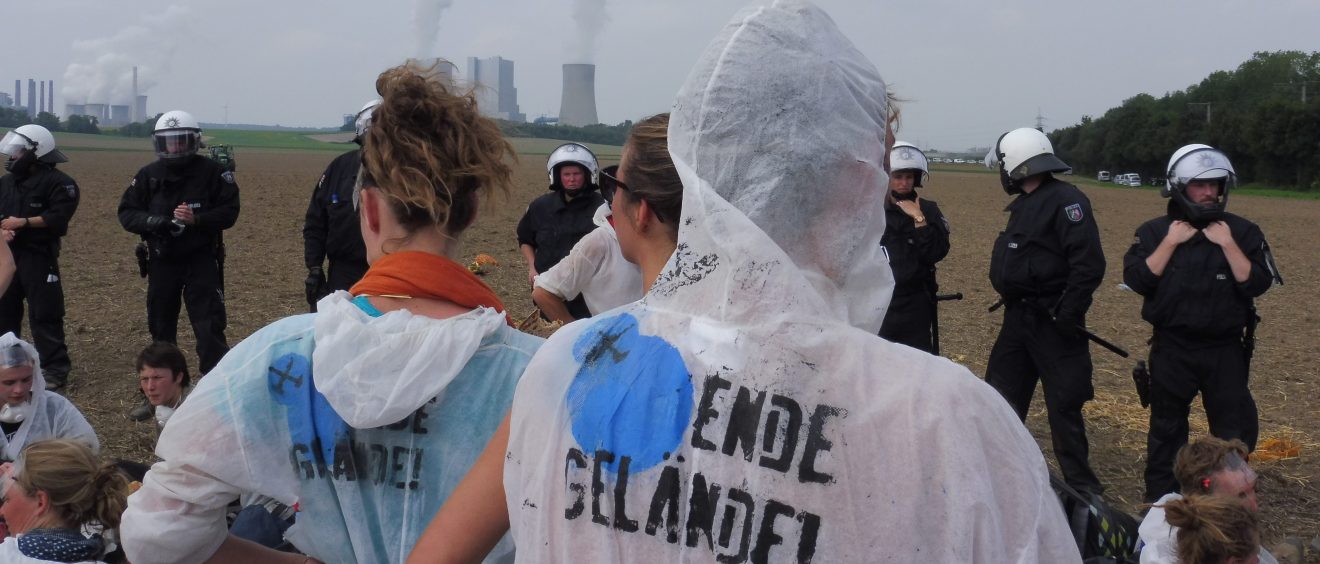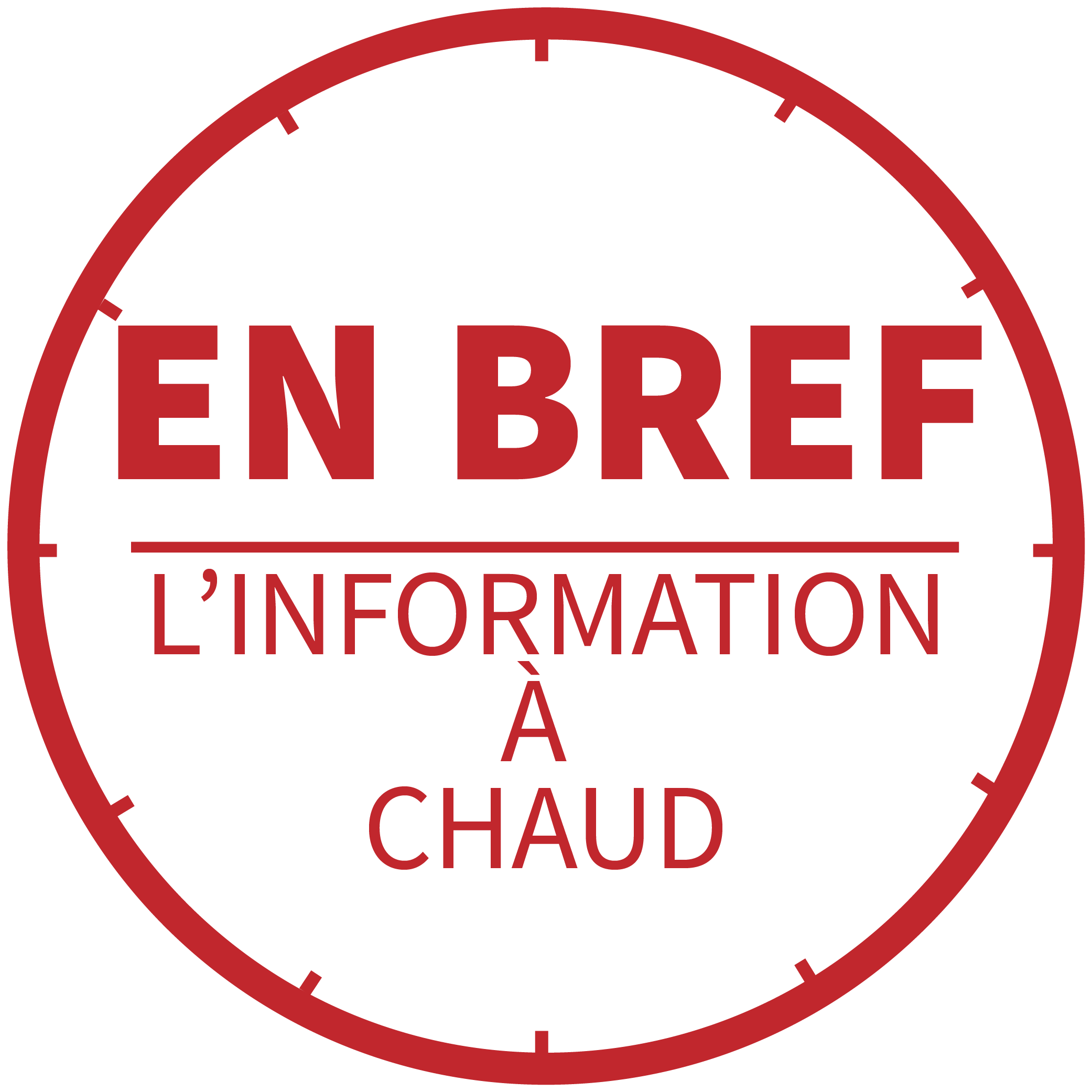 Ende Gelände: 'disobedience in the name of justice'
TRANSLATED BY RHONA KAPPLER AND GENEVIEVE SILK
Ever since the anti-G8 protest at Gênes in 2001, we often hear talk of alter-globalist movements. During the summer of 2017, Le Journal International visited the climate camp of German group Ende Gelände. Our correspondent aimed to get an idea of the group's internal organisation and to gain an understanding of what drives its members. This story comes from the Rhineland, where these activists are using civil disobedience as a tool to raise awareness of 'climate justice'.
Every year since 2015, the German association Ende Gelände ['here, and no further', ed.] organises their 'climate camp'. In 2017, the largest civil disobedience movement for climate justice in Europe has grown to reach almost 6000 militants. From the 24th to the 29th of August, the group hosted an international meet-up, with the main objective of putting an end to the coal mining activity of the Cologne-based company RWE. The programme included talks, protests, and most importantly, peaceful blockades of coal-fired power plants.
Even though they have permission to hold the camp, and everything is perfectly legal, this is not necessarily the case for their next plan of action. There is a certain tension around the camp's border, where a large number of police officers are present. Identity checks are often carried out. This tension is also noticeable inside the camp, where photography is very much frowned upon, as infiltration of events by undercover police officers is common. Anyone could be a potential suspect, and this has an impact on proceedings. As a result, decisions are made in small groups and announced at the last minute.
Effective self-organisation
The illegal nature of the organisation's activities puts everyone on the same level, as every member of Ende Gelände could potentially be held responsible in court. As a result, the group is organised in an autonomous, almost anarchical way. Although it may seem a bit much for some, this method appears to have worked rather well.
"It's very well organised", observes a young man, slightly surprised. He has travelled from France specifically for the meet-up. Everyone helps with the upkeep of the camp in whatever way they can. Some help with the cooking, some clean the toilets and the showers, while some organise the actions taken outside the camp. No one is under any obligation to contribute, but good will seems to work pretty well on its own. Daily meals are served to everyone, and the compost toilets are usually well kept despite the thousands of people using them.
Transport of people, food and materials between different camps, stations and action points is also organised by the group itself. Everyone offers what they can – a bike, car, tractor or bus – to ensure the collective can get from A to B. The same goes for internal communications. Anyone can write any announcements or news on a big board situated at the camp entrance. Anything from lost and found to an announcement of a new police barricade is written here, making the board seem like a sort of collaborative newspaper. "It's quite interesting how it's all put together" notes a student from the Netherlands, who finds the event "inspiring".
"Happy to be here"
Beyond the camp, blockade strategies are led in almost military fashion. Even though the absence of any hierarchy delays decision-making, everything remains considerably well organised. Participants initially pair up, then form into affinity groups made up of four to six pairs. Finally these groups merge to form units of several hundred people. The strategy is to disperse quickly whilst remaining organised by these small groups. On site, "this allows us to overwhelm the police without violence" explains a member in charge of educating new members on the strategy. In the end, some activists went on to occupy key parts of the power plant for several hours. Around 200 people climbed onto the rails to block the transport of coal. Some others claim to have even climbed directly into the mine to prevent extraction.
According to Reporterre, the press team of RWE allegedly affirmed that the impact of the action on the power plant was minimal. Only one reactor was said to have been reduced in power for a few hours; a seemingly disappointing result after so much effort. A young man from Switzerland tells us, "this effort is tiny compared to all that can be done to prevent global warming. What is important is to do all you can and give 100% in everything you do. You have to be aware of everything else, but if you try and focus on everything at once, it'll make you unhappy. I'm just happy to be here." These words bring to mind the ideas of Pierre Rabhi, who joined us for an interview a few months ago..
Raising awareness
Other than a direct impact, Ende Gelände seeks above all to raise awareness of the urgency of the environmental crisis. The association stated, in a press release, that activists have remained peaceful even when faced with police violence. One militant from Germany, who attended the 2016 event, compares the two years: "last year, we targeted a company that wasn't paying taxes, so the government was fine with it. The police were way calmer last year". Less than two months after the G20 protests in Hamburg, the alter-globalist movement continues to make waves in Germany. Next stop for Ende Gelände: the COP23 in Bonn, next November.
Header image: surrounded by police, these activists are about to be arrested and taken to the police station. They use a number of methods to avoid being identified, such as not carrying any ID, wearing makeup on their face and putting glue on their fingers to disguise their identity. Because of this, and because of the large number of activists, the police were not successful in identifying them. They were released without charge a few hours later. Credit: Alexis Demoment.
Journaliste indépendant. Ex-rédacteur en chef du Journal International. Réalisateur du webdoc « Humanité Clandestine ». Aime le journalisme de terrain, d'analyse et d'investigation.