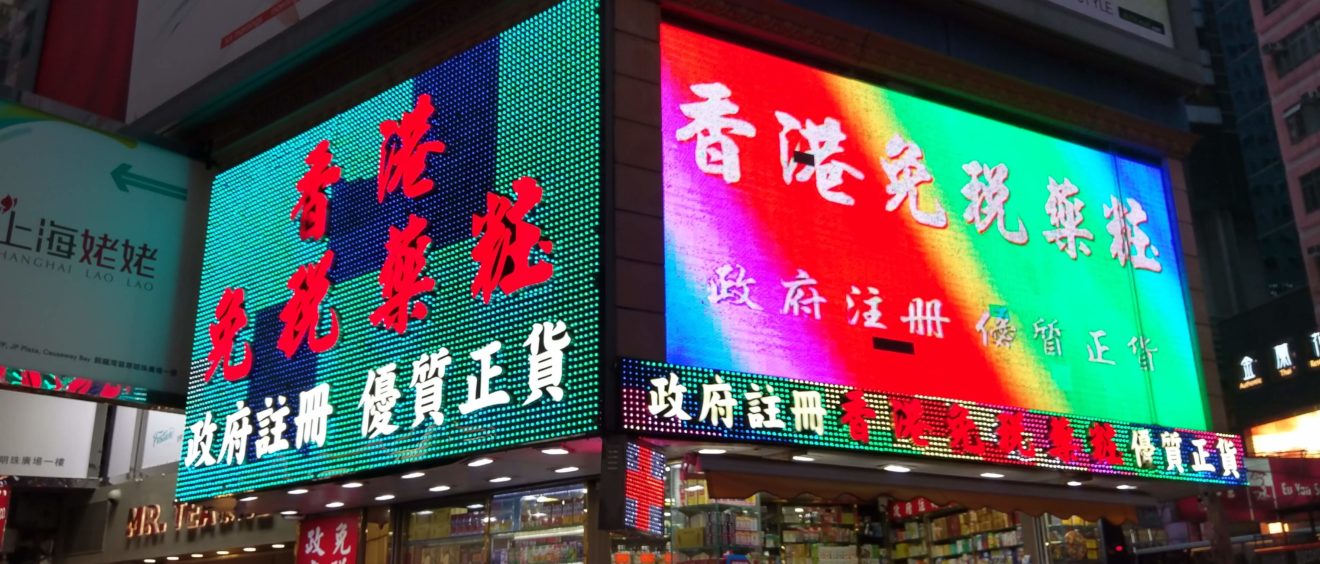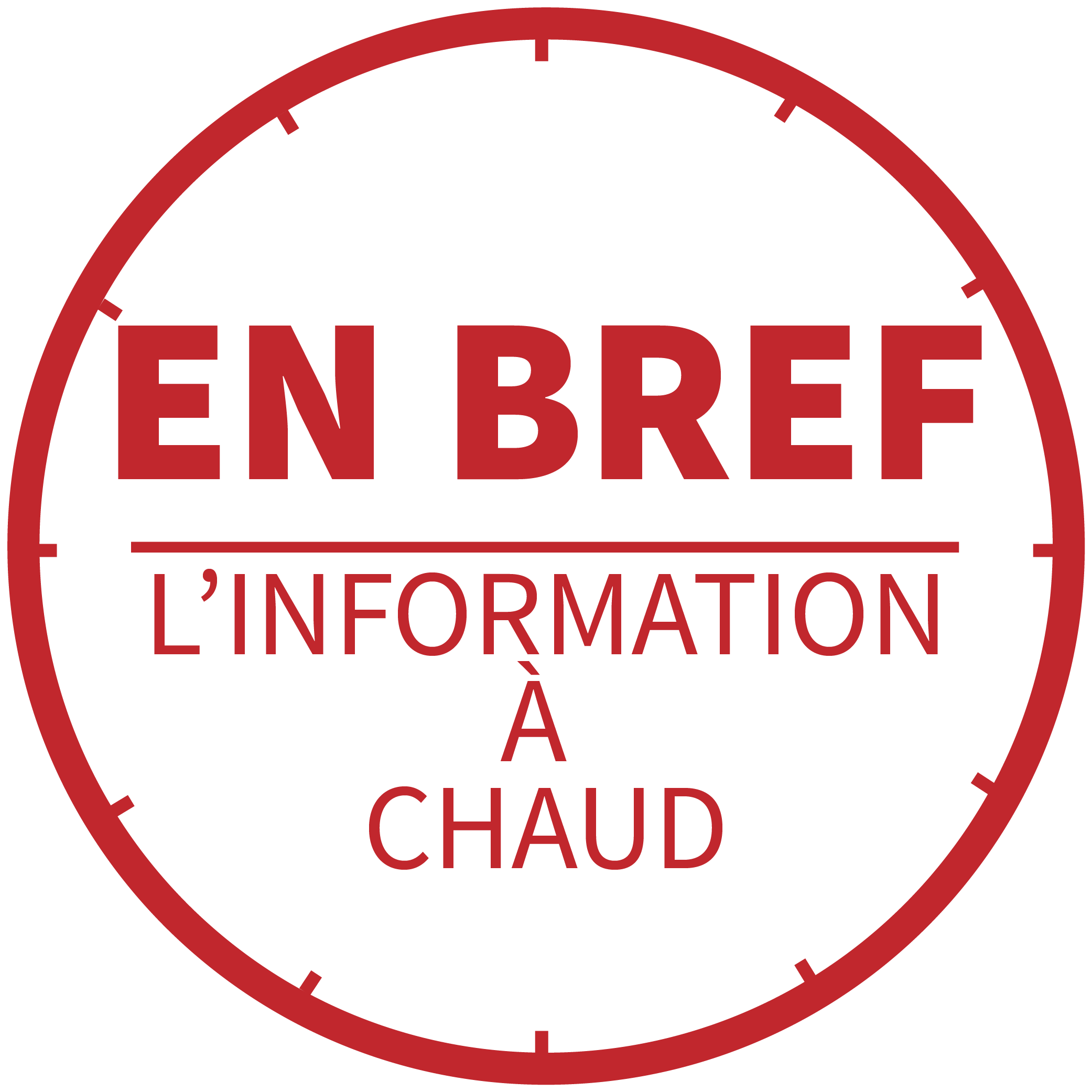 Behind the ubiquitous pharmacies in Hong Kong: Mainland Chinese tourists
What could we learn from the pharmacies that have a ubiquitous presence in Hong Kong's tourist areas?
Taking a stroll in the tourist areas of this dazzling city of Hong Kong, one may be surprised by how many dispensaries found on a single street. With the flashy advertising signs decorated with ostentatiously twinkling neon lights of vivid red, blue and green colors, pharmacy's ubiquitous presence in Hong Kong can hardly be ignored.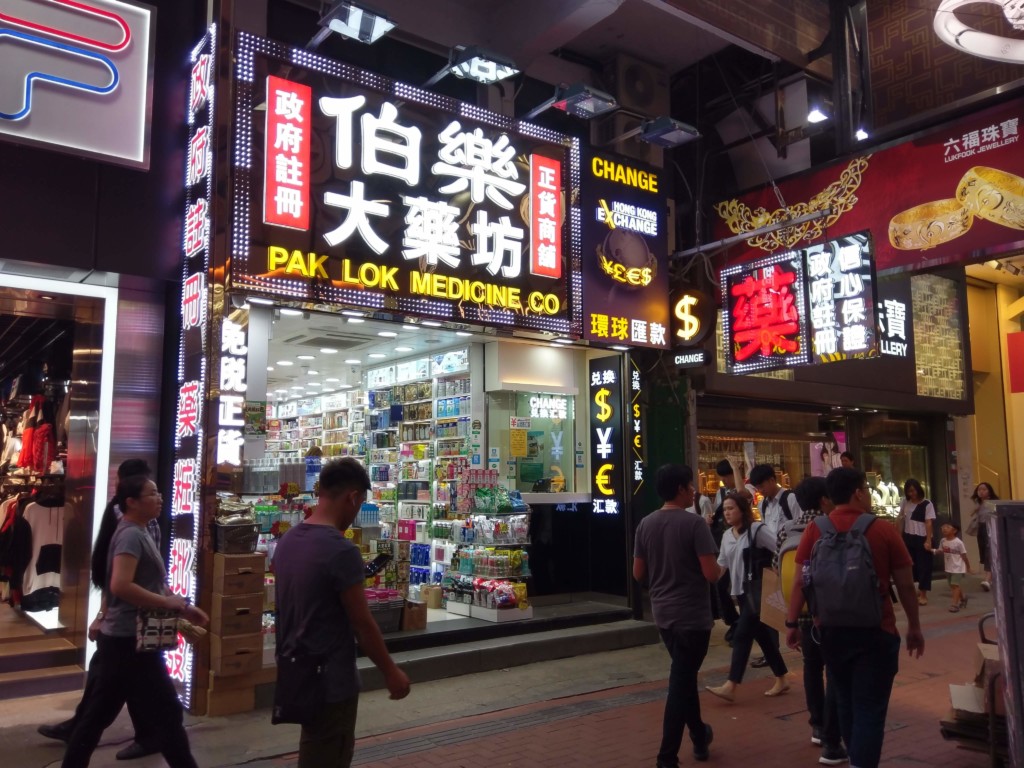 A Pharmacy in one of the tourists-populated area of Hong Kong, Causeway Bay (Source: the author)
"The most-seen shop in Hong Kong is actually – pharmacies," said Daniel Cheng, a young Taiwanese tourist. He explained that "the lack of harmony of the street scene caused by the excessive features of these dispensaries" made it hard for him to forget the omnipresent drug stores.
Tsim Sha Tsui together with Yau Ma Tei and Mong Kok, areas favored by countless mainland Chinese tourists in Kowloon, have formed the most pharmacy-populated district with over 16 drug retailers on every square kilometer of land. Not to mention there are as many as 629 authorized pharmacies on about 193 square kilometers of residential areas of Hong Kong, according to the Drug Office of the Department of Health under the Hong Kong government. "They have been expanding everywhere," said Augustine Luk, a medical student at HKU. He expressed that Hong Kong did not need these many of dispensaries, "growing up I never got drugs in those pharmacies."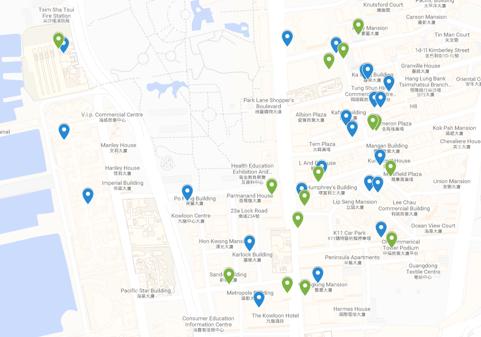 An area of Tsim Sha Tsui Marked by Authorized drug retailers in blue, and Listed drug retailers that bear the name of pharmacy/dispensary in green. (Under Hong Kong's legislation, listed drug retailers are only allowed to sell Over-the-counter drugs.)
Behind the thriving pharmacy business in Hong Kong
Not that Hong Kongers have such a tremendous demand for medicines. The thriving of pharmacies is a reflection of the increasing numbers of mainland Chinese tourists in recent years. Street scenes of the tourists carrying luggage cases full of medicines and cosmetics are common.
Driving Chinese tourists' pharmacy hunt in the city is their demand for drugs and healthcare products, a direct result of China's less-trusted drug products and rapidly-aging society. These causes together contribute to the surge of pharmacies' presence in Hong Kong, especially in tourist areas, but also lead to problems of business malpractices.
"They [those dispensaries] saw the lucrative business opportunity from mainland Chinese tourist," said So Chung Ping, an 89-year-old Tsim Sha Tsui native, who interacts with the neighborhood a lot as the Chairman of The Tsim Sha Tsui District Kai Fong Welfare Association, "so they opened one after another."
Through the years, pharmacy business has only grown to be more reliant on mainland Chinese tourists. Considering more than 75 percent of inbound tourists to Hong Kong are from Mainland China, the intertwined relationship may seem less surprising.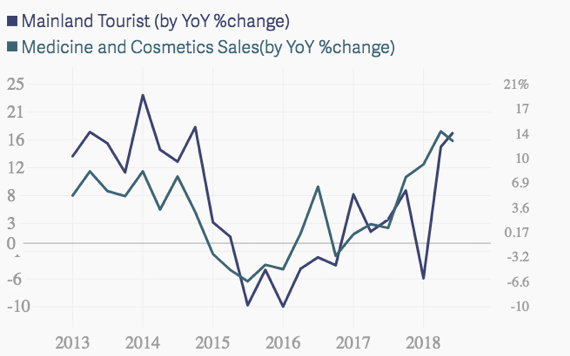 Data retrieved from the Census and Statistics Department of Hong Kong government
Mainlanders' enthusiasm for Hong Kong's drug store is often influenced by two pragmatic factors. One is price, due to Hong Kong's low import tariffs, and another is quality.
"Drugs we bought here can rarely be found in Mainland," said Huang Nie Wei, a middle-aged Mainland tourist. He added that on the other hand, China's "pharmaceutical industry is still under development. Medicines come with low quality due to the lack of regulations and supervision."
Lian Yin Feng, a first-time traveler to Hong Kong from Shenzhen, echoed the price factor, saying that "price in Hong Kong pharmacies are generally lower."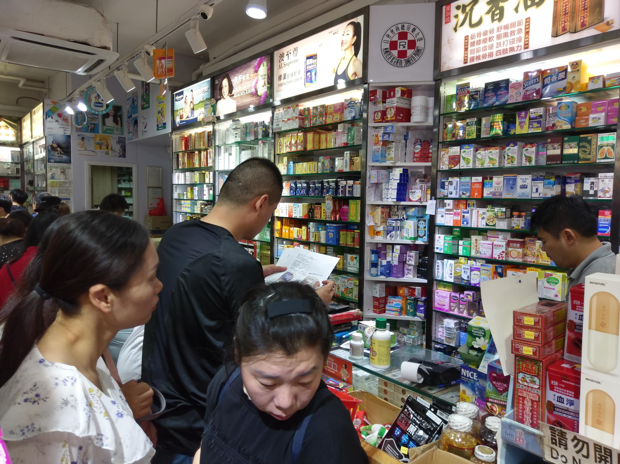 Customers at a busy counter of a dispensary in Tsim Sha Tsui. (Source: the author)
The Contributing factors
However, the demand reflects a huge underlying change of China's demographics and society, due to Chinese people's rising income and the aging population.
Chinese citizens' expenditure on healthcare products and services have been steadily on the rise. According to China's National Health Commission's latest report, the percentage of health expenditure of national GDP has risen to 6.2 percent in 2017 – worth US$ 758.7 billion – from around 4.5 percent in 2010.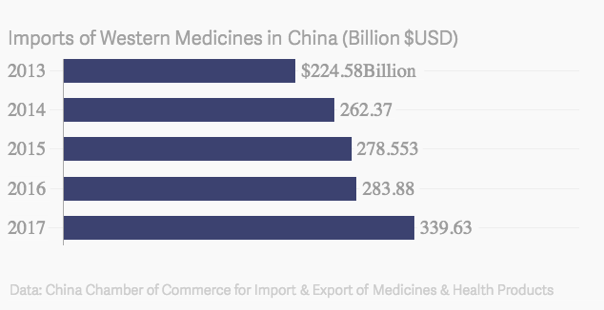 Chinese pharmaceutical market is also now the second largest in the world. And the demand for both Chinese and Western medicine is growing fast, imports of western medicines especially hit a record high, having attained an almost 20 percent increase from 2016 to 2017.
Accelerating the trend is the aging society of China. Chinese citizens aged over 60 now accounts for more than 17.3 percent of the total population – more than 241 million senior citizens in 2017 compared to just 75 million a decade ago. And this enormous senior population represents a great potential for healthcare products and medications for the elderly could be up higher.
Problems arise
The demand certainly has benefited Hong Kong's economy. Problems, however, come with the prevalence of pharmacies. The sale of prescription drugs to non-prescription holders was one of them. The Department of Health responded via email saying that over 6000 unannounced inspections have been conducted from 2013 to 2017, and there were around 70 convicted cases. Though the number has decreased over the years, old practices die hard.
Adding to the problem is the illicit trade of drugs by unlicensed retailers. The Department of Health has also disclosed that over the same period of time, around 70 convicted cases were related to the possession or sale of drugs by illegal and unlicensed traders.
Problems also lie in the vague distinction between authorized and listed drug retailers. Only authorized drug retailers are permitted the sale of prescription drugs, but not listed drug retailers. However, many listed drug retailers have similar exteriors to that of authorized retailers, customers and tourists could be easily confused and fall trap into dealing with illegal retailers.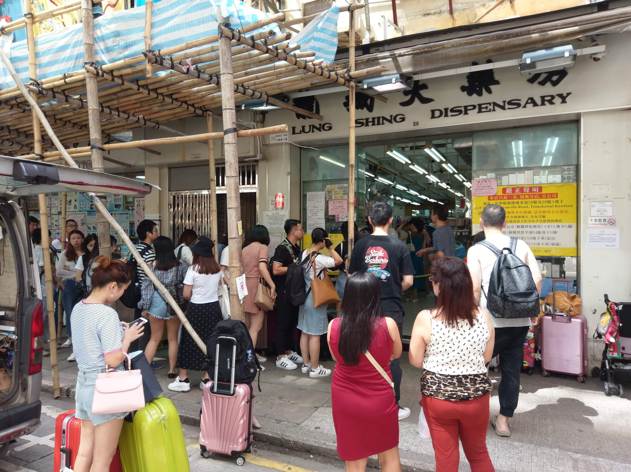 Customers queuing and waiting in front of a dispensary in Tsim Sha Tsui. (Source: the author)
Some dispensaries in tourist areas are also being accused of shady practices. "They sell fake stuff and overcharge tourists," said Mr. Tai, a local pharmacist of Oi Chun Yuen pharmacy who refused to disclose his full name as he commented. "Locals can easily distinguish those tourist-oriented pharmacies from local ones," he added.
Even so, the business maneuvers and countless controversies do not seem to stop mainland tourists from crowding into the stores, and the number of dispensaries is not decreasing either. Instead, they are set to take over other places in Hong Kong.
Geoff Li, 21, a Ho Man Tin native said: "if a place starts to be crowded with mainland Chinese tourists, dispensaries flourish there."
Banner image: A Pharmacy in one of the tourists-populated area of Hong Kong, Causeway Bay (Source: the author)