Code Pink : Antiwar militancy on a pink background
Translated by Nariné Igityan, proofread by Charlotte Borne
They have a singular style: they are committed and ready to be detained for defending their ideas. We met the ladies of the American organization Code Pink.
The organization was born in 2002, in reaction to the American foreign policies, which triggered the Second Golf War. Code Pink continues to fight against American military imperialism and contemporary injustice since these events. The organization encourages dialogue and diplomacy to resolve conflicts.
We met the national co-director of the organization, Arial Gold.
The International Journal: First of all, how would you define Code Pink for our French and International readers?
Ariel Gold: Code Pink is a women-led organization, whose purpose is to oppose US Military Imperialism and redirect death and destruction activities' funds to peacebuilding activities
Your Twitter communication has especially focused on the Venezuelan Embassy in Washington these past weeks. Can you tell us what's going on? What are your objectives?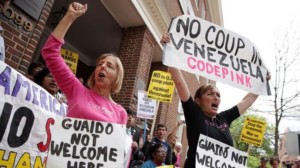 We felt that the embassy would be the next to fall in the hands of the opposition, after that members of the Venezuelan opposition (Pro Guaido) invaded the consulate in New York and then the military branch of the embassy in Washington.
This is how we decided to do everything in our power to stop this episode from the putsch organized by the American government. We then asked for and obtained permission from the legitimate Venezuelan government to move into the embassy, where we stayed during 37 days until the Secret Service entered the building illegally and dislodged us from it, in violation of the Vienna convention.
Another cause that you are fighting for is Palestine. What is your engagement to this issue? How do you make your voice heard on this perplexing issue?
Personally but also professionally, I am very committed to the issue of Palestinian rights. I regularly went to Palestine until two years ago.
However, because of my personal support and Code Pink's one to the BDS movement (Boycott – Divest – Sanction is an international campaign calling for a boycott and various economic, academic, cultural and political pressures on Israel to achieve the end of Israeli colonization), as well as because of my involvement with the Palestinians to help them to put an end to Israeli human rights violations, I was forbidden to return to Palestine (by the Israeli government). Besides, I am a practicing Jew, and this part of the world moves me particularly.
You deal with a lot of violence from your opponents, particularly from the Venezuelan embassy, but also because of your stance on the Israeli-Palestinian conflict. How do you respond to this violence (physical and verbal)?
Violence, whether physical, verbal or State – in the case of my prohibition on entering Israeli territory – is a desperate act trying to maintain the status quo of militarism and occupation. The only and best answer is a more exceptional dedication to the cause, and to always keep love as an essential value.
You are very active on international issues concerning Venezuela, Palestine, Saudi Arabia and even Iran. What are your local actions? What is the purpose of CodePink at the national level?
Our work is focused on the foreign policy of the United States. We do not manage internal fights, but we support certain strains such as the protection of the rights of women, the fight against racism, the opening of borders, the development of social security or even access to quality education for all.
Recently, a new group of representatives to Congress completely changed the concerns of politicians, in particular Ilhan Omar, Rachida Tlaib and Alexandria Ocacio Cortez. What do you think of this new wave of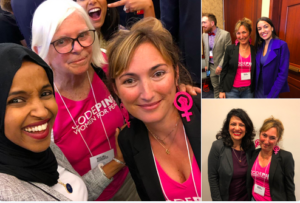 courageous women entering Congress?
We are delighted that brave and daring women have entered Congress and are leading the discussions. We support them and continue to do everything in our power to defend them against the despicable attacks against them.
What is the fulfilment that you are most proud of that CodePink is behind?
We have worked very hard to pass legislation in Congress that would put an end to the US involvement in the Saudi war in Yemen. Unfortunately, Trump has vetoed.
CodePink in action
The organization became famous for its punching actions. Indeed, in addition to demonstrations, sit in and others "classic" protests form, they also invite themselves to conferences and make their voices heard, literally.
Their strategy is simple: all dressed in pink and fitted with signs, they interrupt the speaker and disrupt the event. They very often end up being evacuated in a husky way by security.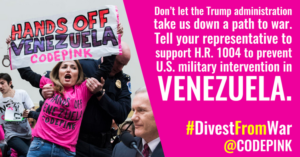 Here is an example with Ariel Gold, evacuated from a conference held by Eliot Abrams, representative of the USA concerning the situation in Venezuela.
At the following link, activists denounce the installation of the LUSH Cosmetics brand in Saudi Arabia, a country known for its non-respect for human rights and its participation in the Yemen war, with catastrophic humanitarian consequences.https://twitter.com/ArielElyseGold/status/1134881421967990784?ref_src=twsrc%5Etfw%7Ctwcamp%5Etweetembed%7Ctwterm%5E1134881421967990784&ref_url=http%3A%2F%2Fwww.lejournalinternational.info%2Fwp-admin%2Fpost.php%3Fpost%3D16037%26action%3Dedit
Working for a better world is a simple sentence that can sum up the purpose of CodePink. Medea Benjamin, one of the co-founders of the organization, explains the importance of community work:
"Militancy allows us to be regularly alert to events: it keeps us in action. Ending wars will certainly take time, but we can use that time to inspire each other with positive initiatives in the image of the world we want to see. "
Je m'appelle Hadjer et je suis actuellement étudiante en 6ème année de Chirurgie dentaire.  Comment une future dentiste s'est elle retrouvée à écrire pour le Journal International ? 
Et bien, je pense tout d'abord que nous ne devrions pas nous cantonner à une seule activité ou à un seul métier. Les limites n'existent que si nous leur laissons la place de s'installer. 
J'aime mon métier mais je suis également une véritable passionnée de politique internationale, d'histoire, de langues étrangères et de géostratégie.  J'adore écrire et lire et je suis une mordue d'informations et d'actualités. Tout cela mis bout à bout explique la présence d'une future dentiste parmi les rédacteurs du JI ! Bonne lecture !