Feel the Bern – Shame, Anger, Vote! 5/5
(This is the conclusion to the Shame, Anger, Vote! articles serie)
All right-wing media will support Trump. The left-wing classical media will be cautious about what they say about Sanders, as AT&T owns CNN and its biggest shareholder is the multimillionaire Randall Stephenson, and at the same time the workers for the media agency are also well paid.
Diagram 3.2 – Horizontal mergers among media corporations in 2019:
GE

Owns:

News-corp

Owns:

Disney

Owns:

Viacom

Owns:

Time Warner

Owns:

CBS

Owns:

comcast,

NBC,

Universal pictures,

Focus features.

Fox, Wall Street Journal,

New York Post

ABC,

ESPN,

Pixar,

Miramax,

Marvel Studios

MTV, Nick Jr, BET, CMT, Paramount Pictures

CNN, HBO, Time, Warner Bros

Showtime, Smithsonian Channel, NFL.com, Jeopardy,




60 Minutes
Depending on the political opinion of their viewers, these channels are going to slander Sanders or be cautious about delivering a "bern" to Bernie Sanders. As in these left-wing media outlets there will be an internal conflict between delivering a coherent article that suits their readers and viewers while at the same time trying to not favour Sanders politics due to the journalists and shareholders' social standing (they are among the upper-class in the USA).
Social Media will allow Donald Jr. Trump through cheap advertising to build his campaign and political image (Brad Parscale Trumps American digital consultant knew how "to sell" Trump's Image to Facebook, decreasing the costs of the campaign compared to Hilary's campaign). However Bernie Sanders can expect support from more celebrities endorsement and some celebrities explaining his policies to a broad spectrum of people, which we have previously seen with Cardi B. and Jim Carrey explaining Universal Health Care. Nonetheless, Bernie Sanders will still fall short due to a lack of support from ethnic-minorities and the white working class. The later tend to vote for Trump.
The possibility of Bernie 2020 seems plausible as the United States of America is divided in tribes. These political and social identity tribes are fueled by anger due to the trending controversy and public shaming on social media. A big hurdle that remains for Bernie is the possibility of Joe Biden's candidacy,but this is not official yet, as well as O'rourke who received an incredible amount of campaign fundings, 6 millions – he still has not released the list of contributors, likely as big corporations funded him.
The decisive element for Bernie Sanders' victory is to gain support from celebrities that belong to 'tribes' that do not vote for him. The moment that we can assert that Bernie will win is the moment that Cardi-B popularizes him among the young afro-americans and the moment that Oprah Winfrey will help him gain a million votes, just as she did with Obama.
Social media anger and the popularity of celibrities remain a big part in the United States Presidential elections. We will see which one has more influence in 2020.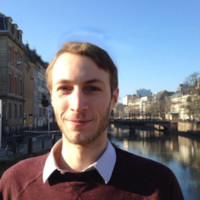 Actif, motivé et curieux.