Between sarcasm and philosophy : the key ingredients of the series BoJack Horseman
The increasingly popular series BoJack Horseman depicts a world where human beings and manlike animals cohabit and try their very best to go through life and the many ordeals that life has in store for them. The fifth season, which was released last September, has been a great success and has reinforced BoJack Horseman as one of the platform's must-see shows.
The eponymous equine protaganist has gone from star to has-been, as he tries to recapture his fame.. His friends are both loyal and troublesome, like Todd Chavez (his often less than welcome roommate),Diane Nguyen (a ghostwriter who encourages BoJack to confide in her) and Mister Peanutbutter (a labrador who starred in a rival show, and never lost his popularity). At first glance, there seems little to distinguish this animated series in a saturated genre. Yet, it is clear that it managed to bring a large and worldwide fan base together, winning ravereviews. Several aspects may explain the phenomenon.
Cavalier and sarcastic episodes
One of the first things that might explained the series' success is most likely its ever-present sarcasm and its often cutting social commentary. The wide range of topics includes intensive farming, where animals are secluded and fed on a diet of medications, cults and their methods of indoctrination, social media-addiction, the behind-the-scenes of politics. BoJack Horseman addresses these issues with a largely convincing sharpness. Likewise, the show talks largely and freely about drugs and depression in surprising dialogues which rather ring true and genuine. We may have here one of the cartoon's key ingredients : BoJack is a depressed alcoholic who relies without hesitation on drugs to face his sorrow and his need for recognition. He is a flawed being, neither particularly clever nor kind.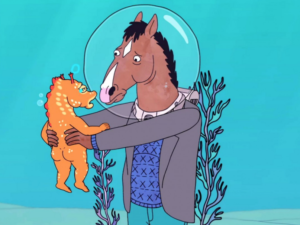 Furthermore, writers don't hesitate to slip in cutting remarks about public figures, whether its reality TV's celebrities, singers or actors and film producers. Many nods can be spotted in the dialogues and in the show's setting. Black humour is pervading but always used intelligently in order, for instance, to condemn sexism and homophobia. However the show's creator, Raphael Bob-Waksberg, had to respond last January to accusations of post-racism. One controversial point was the choice of white actress Alison Brie to voice Vietnamese-American Diane Nguyen. More broadly, the show has faced criticism for having an all-white cast. In an interview with Uproxx, creator admitted his mistakes, saying he wouldn't make the same choice now: he would choose an actress with Asian ancestry.
Audacious artistic choices
The show distinguished itself with quite audacious and unexpected artistic choices. The opening title sequence, which changes every episode, is one example. Nevertheless, writers pushed the originality further, to whole episodes. Season 3's episode "Fish out of water"  created a lot of buzz. Aside from the pre-opening title, the whole episode's narrative is silent and unfolds under water. BoJack only communicates with signs. As for fish and other marine mammals, their exchanges are made in an impenetrable language for both the horse and the audience. This choice is particularly interesting and very well executed: the absence of dialogues creates a slight awkwardness and a sense of isolation, but without obstructing the episode's viewing, which was voted in 2016 as the Best TV episode of the year by Time Magazine and Variety.
Another very surprising episode can be found in season five. Entitled "Free Churro" , it shows us Bojack making a eulogy at his mother's funerals. Once again except for the pre-opening title, the episode is only a single twenty-two minutes' monologue. Even so, it's moving and gripping. Bojack is trying to discover the meaning of his mother's last words "I see you"  while remembering their chaotic relationship, as chaotic that his relationship with his father was. The episode ends with a touching admission on BoJack's part. He reveals that never lost hope of having one day a loving mother, but this hope has been swept away by his mother's death, then he declares: "Today my mother died and everything is worse now" .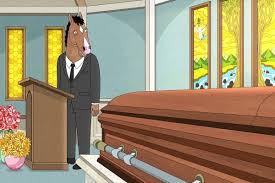 The philosophy behind it
Finally, the cartoon is really moving thanks to the way it mingles human and philosophical topics. It presents characters searching for happiness and who, more often than not, scuttle themselves. They are the mere victims of their fears, of their incapacity to accept happiness, of their nasty habits of self-destruction. It is possible to recognize in the show one of Blaise Pascal's theory about the necessity human beings feel to distract them from themselves in order to escape the harsh truth of reality, as well as Sartre's existentialism and Camus's absurdism. Furthermore, BoJack is driven by a leitmotiv in his life: his fear of drowning, figuratively and literally. Water plays a very important part in the series, visible from the opening title and through the five seasons. During his mother's funeral, he confesses his almost constant impression of drowning, but explains that sometimes in his life, on very rare occasions, suddenly he remembers that he knows how to swim. To learn more, a very thorough and advanced analysis in English is available on Wisecrack's YouTube channel. It sure seems that BoJack Horseman will continue to make a lot of noise since a sixth season is already in production…
Étudiant en psychologie, en philosophie et en lettres modernes, également jeune écrivain et curieux de nature, je suis passionné par l'humain, que ce soit à l'échelle de l'individu ou de la société.
Blog personnel : jullienpacionidorna.wordpress.com
Lien Flattr : flattr.com/@jpacioni