Translated by Natacha Perrin, proofread by Guéric Cardet
On April 21st, Turkey had registered 90 980 Covid-19's cases and 2 140 deaths, what ranks the country 7th worldwide in terms of confirmed cases. The domestic crisis management carried out by the AKP (Adalet ve Kalkinma Partisi) is strongly criticised by the opposition and is considered as belated. In the past weeks, it even led to a national disorder on the streets and in the stores. Still, in spite of its own internal difficulties, Turkey has been offering valuable medical assistance to numerous countries since the pandemic outbreak. Since January 31st, the Turkish Cooperation and Coordination Agency (TIKA) has been providing medical assistance to China, severely affected by the pandemic back then. This significant humanitarian gesture is the first one made by the Turkish government.
On April 10th, Ankara's announcement regarding first containment measures caused mass stampedes, people rushing into groceries and stores still open. Indeed, the government had just decreed a 48-hour curfew in the main provinces of the country. A late and poorly-anticipated announcement despite the Prime Minister's appeals for calm. The opposition called for more stringent measures and a well thought out reaction from the government. Though, Ankara did try to implement an exemplary crisis management.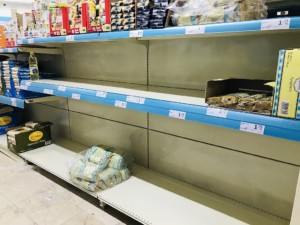 Mid-March, Turkey only had one victim; a number President Erdogan could brag about. A month later, the situation has totally shifted. The country is now first in terms of deaths in the region, before its neighbour, Iran. Following the chaos caused by these measures, Home Secretary took full responsibility for it in a resignation statement. President Erdogan rejected it in another statement.
Tensions increased by sanitary and political crisis
On their side, opponents sound the alarm. Istanbul mayor, from the opposition party, regrets "one-sided decisions". He wanted compulsory containment, in line with medical institutions. But the government wants to preserve national economy, still tenuous coming out of the 2018 financial crisis. Meral Aksener, President of the Iyi Party (Good Party), criticised the refusal of the government to fully consider a real containment. On the other hand, the opposition party CHP (Cumhuriyet Halk Partisi) in Ankara and Istanbul where sit their mayors, set up a collection campaign to help most deprived people. This decision really irritated AKP's leaders who stopped the campaign.
The current pandemic emphasizes the tensions that already exist between the ruling party and the opposition party, mainly embodied by the mayors of important cities such as Istanbul, Ankara or Antalya. These cities might be seen as resistance against the ruling party. Even if the AKP remains the majority party, the current crisis reveals a tense political situation. In spite official speeches insisting on Turkey's unity, the political split is real. Failing to convince the opposition, the government then decided, just as Russia, to turn to international assistance.
International assistance dedicated to emerging soft power
If Turkey's internal crisis management fails to win unanimous support within the country, at an international scale the country really gets involved in the fight against coronavirus. The fact that Turkey offered medical assistance to China marked the beginning of a humanitarian policy benefiting Turkish soft power which tries to gain a foothold, while Turkey is the target of many criticisms, especially after its decision to let migrants cross the country to go to Europe. Humanitarian aid provided by Ankara states its willingness to pacify its foreign relations and to show a positive side of the country and its diplomacy.
After sending masks and protection jackets to China, Turkey also sent medical equipment to Italy and Spain, badly hit by the virus. The United Kingdom also received Turkish help twice, with two medical aid shipments. A significant but also symbolical gesture since Turkey is still applying for EU membership. This aid provided to European countries has even been extended to the Balkans. Such willingness to help other countries, beyond illustrating Turkish soft power, is in line with Ahmet Davutoglu's foreign policy implemented in 2009, when he was Foreign Minister
Maintaining the "zero problem with neighbours" policy?
Surprisingly, Ankara also provided help to other countries. The foreign policy thought by Davutoglu consists in "zero problem with neighbours". Turkey then wanted to normalise its relations with neighbouring countries. That's why, in spite of its tensed relations with Israel, the Turkish Republic accepted to deliver medical equipment ordered by the Israeli government. Turkish government also announced that they would send free medical equipment to Palestinian territories. Ankara even cooperated with Armenia whereas the two have split diplomatic ties since 1993, in order to deport Armenian nationals still present in Turkey.
All in all, even though Turkey is severely hit by the Covid-19 pandemic, they decide to help other countries. Between humanitarian willingness and continuity with a foreign policy based on the normalisation of foreign relations, Turkey tends to impose itself as an essential stakeholder during these critical times. What used to be the "sick man" of Europe now wants to be the "healing man".
Etudiante en Relations Internationales, Natacha s'intéresse aux enjeux géopolitiques du Moyen-Orient avec une préférence pour la Turquie et les pays du Golfe Arabo-persique.